Investment in the New England Region Brings Improved Food Safety and Quality Analytical Options For Food Producers and Retailers
JULY 26, 2017 (PITTSBURGH, PA) – Microbac Laboratories, Inc. announces the grand opening of the Westborough, MA laboratory location. This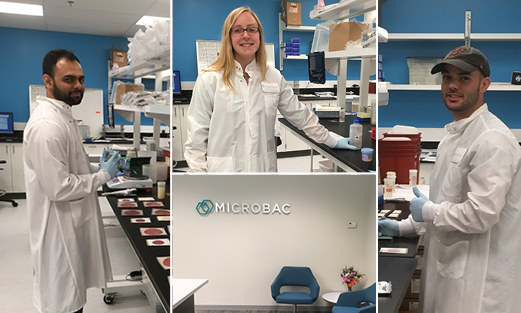 newly designed and constructed lab offers the industry's best food safety and quality testing equipment, technology and service.
"We have clients in the New England area that are some of the biggest producers and retailers in the region," says Cabot Earle, Microbac CEO. "The investment in Westborough is a strategic extension of our food safety Center of Excellence based in Pennsylvania. This new lab will be a convenient option for those in our New England footprint looking to stay proactive on their food safety culture and FSMA regulation compliance."
The new ISO 17025 accredited lab is now open and located at: 117 Flanders Road, Suite 101, Westborough, MA 01581. As one of the larger national networks of labs in the area, Microbac will provide both courier and walk-in service for all food and drinking water testing needs.
"One of the biggest payoffs we'll be offering clients with this new lab will be accelerated turnaround times for full-service safety and quality analytical testing," Earle continues. "We know that quick turn on food safety, ingredient and quality or validation test results is critical to timely decision-making that keeps our clients' products in play and safe for consumers."
For service and inquiries, go to www.microbac.com/contact.
About Microbac
Microbac is an independent laboratory testing company committed to delivering quality measurement data and optimal customer experience for our clients. Serving the food, environmental, and life sciences markets, we partner with corporations, as well as local, state and federal agencies to help them innovate and produce with confidence, and in compliance. Since 1969, Microbac has helped to assure the quality, health and safety of products that impact consumers every day.
microbac.com
###