Microbac Ups Investment in Food Industry Testing with New Center of Excellence
Renovated and expanded laboratory offers food and nutrition clients robust testing resources under one roof.
July 26, 2018 (PITTSBURGH, PA) – Microbac Laboratories, Inc. today announces the introduction of its brand new Food Testing Center of Excellence based in Warrendale, PA.
"For a long time, we have housed food testing services at this location," explains Susan Gregro, SVP Food & Nutrition at Microbac. "But we made the decision to invest in a thoughtful and robust renovation to transform our operation into a leading center for food and nutrition industry capabilities."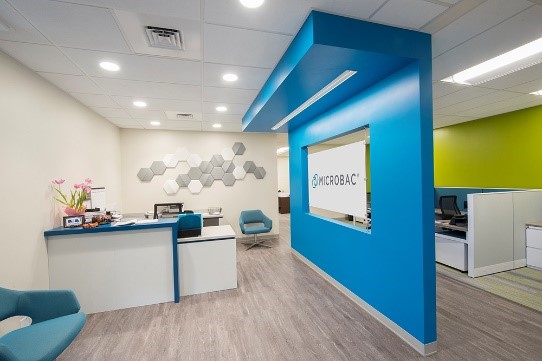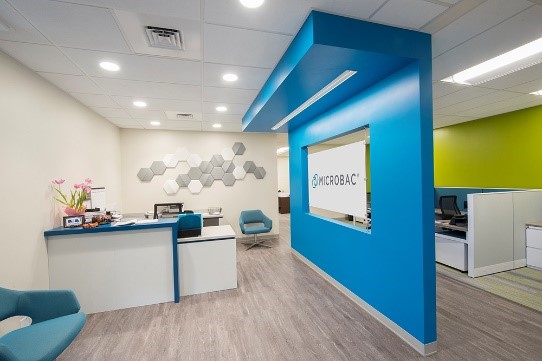 "The food and nutrition industry carries with it a lot of unique demands for both safety and quality testing," she continues. "To therefore best serve food customers, we are offering the scalable testing space, instrumentation and services – all under one roof - as a true Center of Excellence."
To achieve this vision, Microbac partnered with AE Works, a Pittsburgh-headquartered building design and consulting firm, to design a new workflow to ensure a consistent, safe and streamlined customer experience - from onboarding, through lab testing and customer service. The project expanded the laboratory's footprint to 20,000 square feet and houses both microbiology and chemistry testing solutions for food, pet food, and dietary supplements customers.
"Having both microbiology and chemistry under one roof is a critical combination for our food customers," explains Gregro. "Growing demands on the food industry include authenticity, safety and quality testing from R&D all the way through ongoing production manufacturing. Our customers are committed to the safety and satisfaction of their consumers, so it's our job to help them deliver on that promise with confidence and consistency."
Microbac's Food & Nutrition Testing Center of Excellence, located in the Thorn Hill Industrial Park, is ISO 17025 accredited and GMP compliant for dietary supplement producers. Analytical demands in this category are increasing due to FDA validation requirements for purity, identity and concentration in both raw materials and finished products. Microbac's dedicated food and nutrition team is approved to meet such evolving standards that help clients validate label claims and reinforce diligence to assure consumer safety.
The facility serves local, regional and national customers with same-day set-up and fast turnaround for samples either dropped at or shipped to the Warrendale location.
"Speed is of critical importance to our customers," says Gregro. "Waiting on a nutritional label validation or getting data on a potential listeria or salmonella concern can halt production or keep products out of play for days. It's our commitment to get them the results and data they need to make informed decisions. This new Center of Excellence helps us expand our ability to deliver on that commitment and support our customers' businesses."
photos by Michael Ray
ABOUT MICROBAC LABORATORIES, INC.
Microbac is an independent laboratory testing company committed to delivering quality measurement data and optimal customer experience for its clients. Serving the food and nutrition, environmental, and life sciences markets, and with a host of specialty technical expertise, Microbac partners with its clients to help them innovate and produce with confidence, and in compliance. Since 1969, Microbac has helped to assure the quality, health and safety of products that impact consumers every day. microbac.com
ABOUT AE WORKS
The mission of AE Works is to transform the lives of people and organizations by creating stunningly beautiful, highly functional, and safer spaces. We do this by integrating the practices of architecture, planning, engineering, security risk management and project services to develop innovative, creative, and collaborative solutions to complex problems. www.ae-works.com
###