Why Size Matters – When Picking a Laboratory
Why Size Matters – When Picking a Laboratory
Size matters. And when it comes to choosing a laboratory to partner with, it matters even more. Too small and businesses find themselves having to deal with multiple laboratories because the first doesn't have sufficient capabilities to take care of their testing needs. Too large and businesses become lost in the queue. In both of these scenarios, your needs aren't met. How can you find a laboratory that offers the best of both worlds – the personalized communication and authenticity of a mom-and-pop shop, with the turn around times and broad capability scope of a global player? Grayson Boyce, Operations Manager of Microbac's Fayetteville, North Carolina laboratory, believes he has the answer:
"We're family-owned, but we're also nationwide, so we can truly be your one-stop-shop," explained Boyce. "What I've been preaching is personalization. When a customer's samples come to the door, I know the people behind that sample, personally… by name. They are not a number on our testing lineup. Our customers have my personal cellphone number and they can call me anytime, day or night. That's the biggest difference between us the competition…"
"The mom-and-pop labs are too small to handle the volume that our customers require. The big labs are so big that our customer's unique needs don't matter."
Boyce makes a great point. Nobody, whether ordering clothing from an online retailer or sitting down at his or her favorite restaurant, wants to feel like just a number. On the other hand, some laboratories are so small they simply don't have the capacity to meet customer needs. With 30 laboratories nationwide, Microbac's influence is far-reaching, and yet it remains family-owned. And this, in Boyce's opinion, is the sweet spot.
"That right there – having a big network with many small labs – that is the difference between Microbac and our competitors," expressed Boyce. "Our size allows us to be both personal and capable."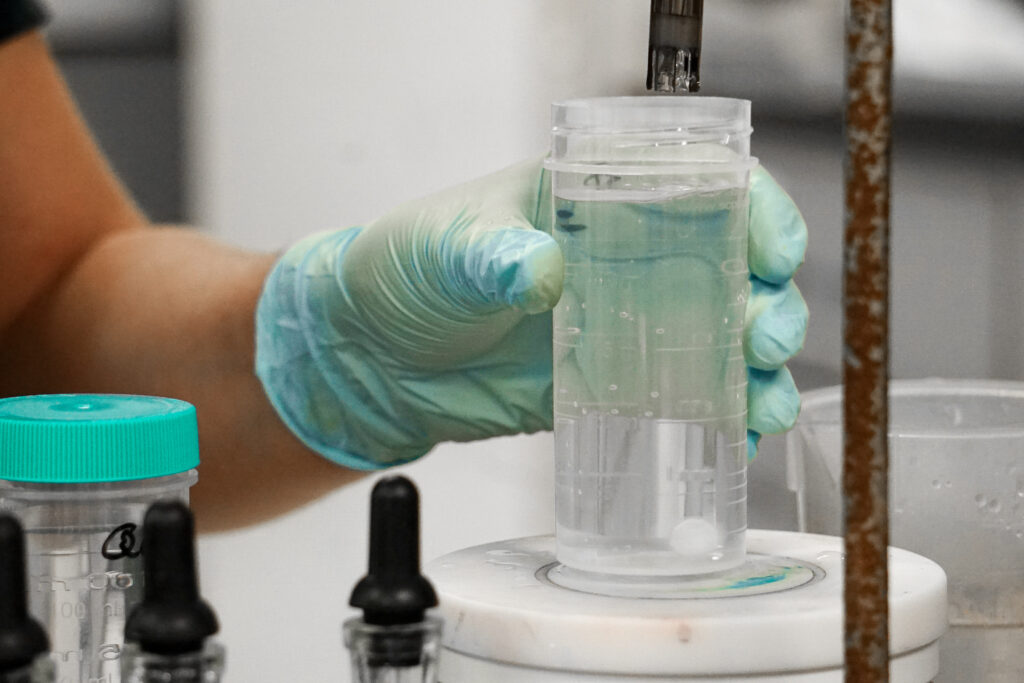 Another benefit to having many small laboratory teams within a big network? Unity amongst employees. Boyce's crew in Fayetteville is small but mighty. They know one another on a personal level which means that they have each other's backs. Boyce believes that co-worker loyalty is reflected in their loyalty to the customer.
"Our exceptional customer service is a result of the service that my team gives to each team member," explained Boyce. "We have each other's backs and in turn, we have the customer's back. We're all so close here that the testing will always be done on time because the analysts are looking out for one another. It is that level of teamwork inside the lab which leads to fantastic customer service outside of it."
Ever heard the saying "teamwork makes the dream work?" Well, teamwork is always easier when you actually like who you're working with. Happy employees are loyal employees, and loyal employees attract loyal customers. Boyce understands that success comes from within. He spends his time building his team up because he knows that when they succeed, so do his customers.
"It all starts right here in the lab," explained Boyce. "If you have teamwork, loyalty, and communication here… you're going to give that to your customers."
If you're searching for a testing laboratory large enough to tackle your complicated projects, and small enough to keep it personal – tap here to get to know Microbac better. If you're already familiar with us and would like to request a free quote for your testing needs, tap here.
This document is not intended to provide scientific or other advice to be used in a specific fact situation and is intended for general information purposes only. While we encourage you to share this document with others, this document or any portion of it may not be quoted, used in or referred to in another publication without our express permission.
All photography by Cara Chancellor