Here's a Guide for Food Manufacturers Looking to Meet the Upcoming Nutritional Fact Label Deadlines
Here's a Guide for Food Manufacturers Looking to Meet the Upcoming Nutritional Fact Label Deadlines
The deadline for food manufacturers to update their nutritional facts labels in accordance with new FDA requirements is coming up fast. In this article, we take a deep dive into what these new changes are and how to proactively update your labels before the deadline approaches.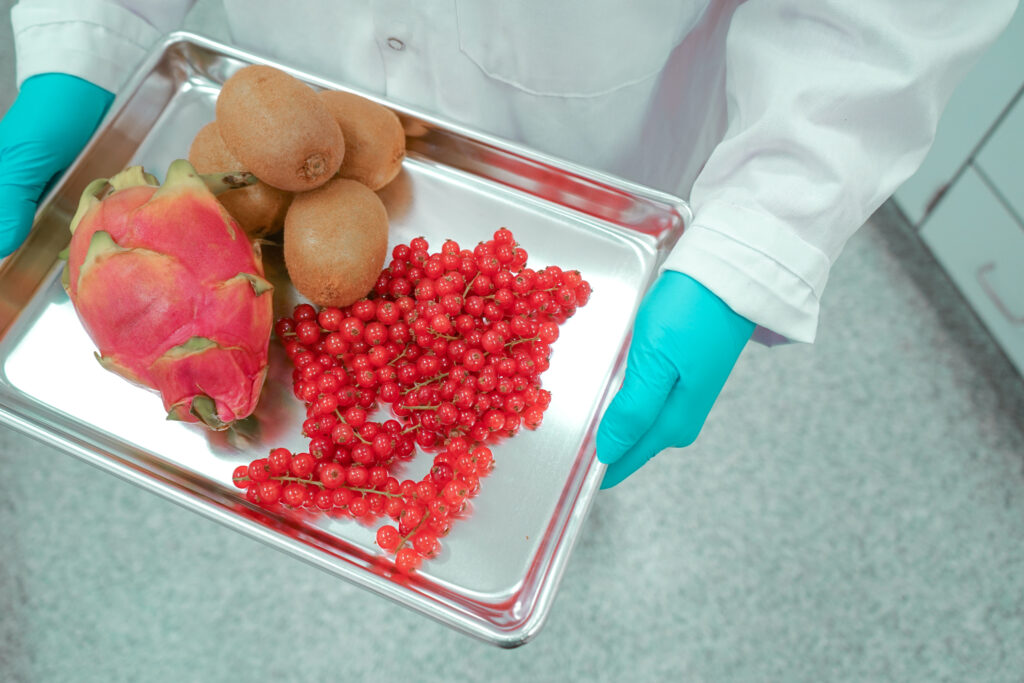 In accordance with U.S. Food and Drug Administration (FDA) regulations, small food manufacturers — companies with less than $10 million in annual sales – are required to make mandatory modifications to their Nutrition Facts label. The fast-approaching compliance deadline is January 1, 2021, exactly one calendar year after the modifications went into effect for large food companies.
Prior to last year, the Nutrition Facts label had undergone few changes on food packaging since its historic debut in 1994. The FDA, as part of a decades-old mission to decrease negative health effects caused by poor nutrition, believed that the time was right to give a fresh, and long overdue, makeover to the iconic black and white Nutrition Facts label.
(It is estimated that poor diet is responsible for over $50 billion in annual health care costs, attributable to cardiometabolic diseases, such as heart disease, stroke and type 2 diabetes, in the U.S.1)
Major Modifications
Following years of input and comments from scientific bodies, dietary experts, certified nutritionists, health professionals, food industry stakeholders and the general public, the FDA published final rules on the new Nutrition Facts label for packaged foods in May 2016.
The federal agency stated that the changes were intended to reflect new scientific information, including the link between diet and chronic diseases. Other revisions included modifying the list of required nutrients that must be declared on the label, updating serving size requirements and providing a revitalized design. The section below provides a brief overview of some of the key revisions:2
Servings: The number of "servings per container" and the "Serving Size" declaration have increased and are now in larger and/or bolder font. Serving sizes have been updated to better reflect the amount people typically eat and drink (e.g., the serving size for ice cream was previously 1/2 cup and now is 2/3 cup.) There are also new requirements for certain size packages, such as those that are between one and two servings or are larger than a single serving but could be consumed in one or multiple sittings.
Calories: "Calories" is now in a larger and bolder font, allowing the first-glance reference by consumers.
Fats: While continuing to require "Total Fat," "Saturated Fat," and "Trans Fat" on the label, "Calories from Fat" was removed because research shows the type of fat is more important than the amount.
Added Sugars: "Added Sugars" in grams and as a percent Daily Value (%DV) is now required on the label. Added sugars include sugars that are added during the processing of foods (such as sucrose or dextrose), foods packaged as sweeteners (such as table sugar), sugars from syrups and honey, and sugars from concentrated fruit or vegetable juices. Scientific data shows that it is difficult to meet nutrient needs while staying within calorie limits if individuals consume more than 10% of their total daily calories from added sugar.
Nutrients: The lists of nutrients that are required or permitted on the label have been updated. Vitamin D and potassium are now required on the label because Americans do not always get the recommended amounts. Vitamins A and C are no longer required since deficiencies of these vitamins are now rare. (They can, however, be voluntarily included by food manufacturers, along with other vitamins and minerals.)
The actual amount (in milligrams or micrograms) in addition to the %DV must be listed for vitamin D, calcium, iron, and potassium. The Daily Values for nutrients have also been updated based on newer scientific evidence. The Daily Values are reference amounts of nutrients to consume or not to exceed each day and are used to calculate the %DV.
Footnote: The footnote at the bottom of the Nutrition facts label has changed to better explain the meaning of %DV. The %DV helps individuals understand the nutrition information in the context of a total daily diet.
Just the Facts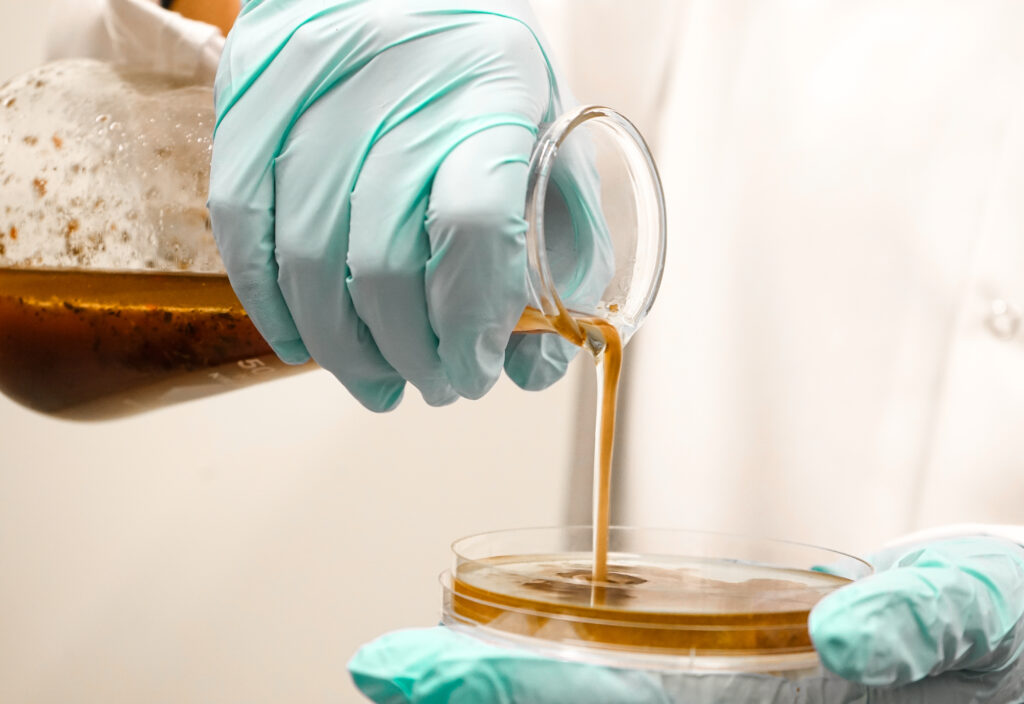 Since its introduction, the Nutrition Facts label has been frequently criticized for being too complicated for many consumers to properly understand and use. To address this, the refreshed Nutrition Facts label features bolder visual elements and updated information, making it easier for consumers to make informed food choices and develop healthy eating habits, according to the FDA (Figure 1).
Figure 1.
Side-by-side comparison of the original and new label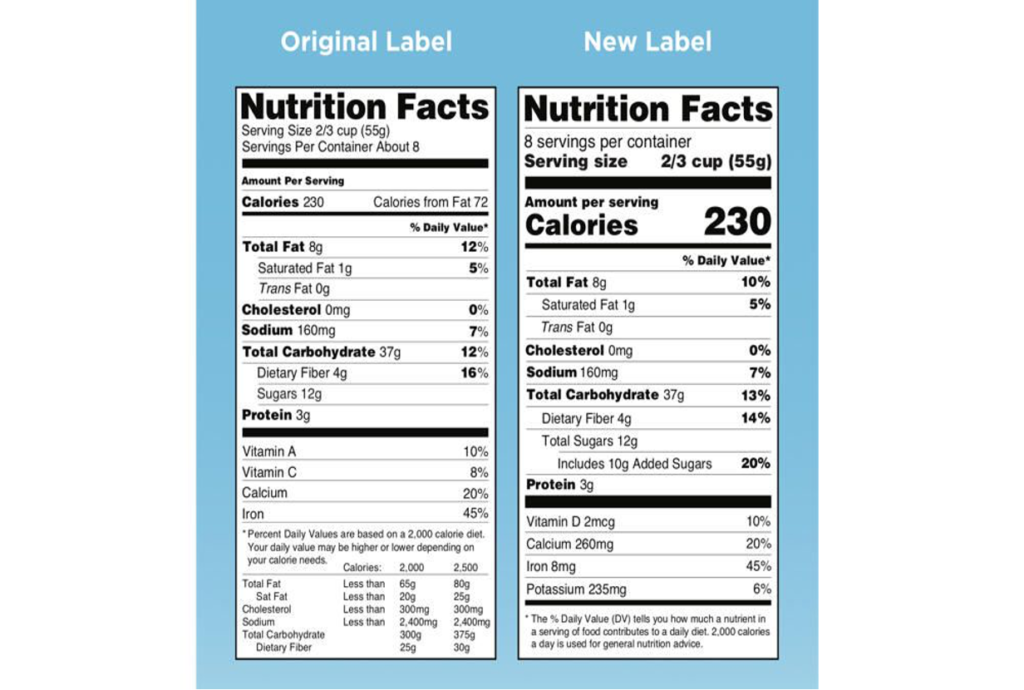 A report conducted by the NPD Group, a leading global information company, found that a majority of American consumers, nearly 90%, read food packaging labels and rely on them as an important source of information, especially to augment healthier eating lifestyles.3
Sugars (57%) and calories (45%), both of which are updated in the new labeling regulations, topped the most looked at items by consumers on the nutrition label, according to NPD's Health Aspirations and Behavioral Tracking Service. Rounding out the top four consumer items were sodium (38%) and protein (33%).
The NPD report, which was released in January 2020, recorded palpable interest in total fat and trans fat among a fair number of consumers. Nine percent of surveyed consumers reported that they look for potassium content, a new addition to the label because of its importance in a healthy diet.
Despite the implementation challenges posed by the new labeling regulations, some industry observers believe they could serve as a galvanizing incentive for large and small manufacturers to: 1) Provide more healthy food choices to consumers who are concerned about diet and long-term health; 2) Differentiate their products from those of their competitors; and 3) Communicate and educate consumers on the nutritional and health benefits of their products.4
Four years ago, the FDA projected that the labeling overhaul would cost the food industry approximately $2 billion, but would potentially yield $20 to $30 billion in economic benefits.5
A Checklist for Food Manufacturers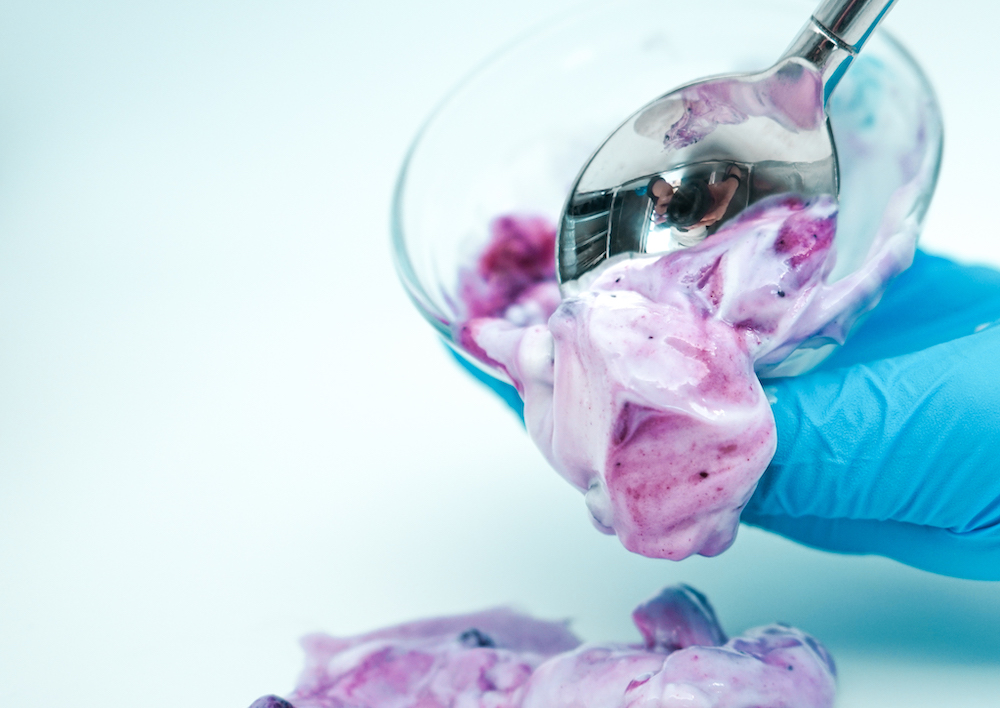 Operating most of the current year under the foreboding shadow of the coronavirus (COVID-19) pandemic, small food manufacturers are now staring down the January 1, 2021 deadline to comply with required changes to the Nutrition Facts label.
With one eye on the calendar and another on its bottom line, small manufacturers must maximize their resources to meet the impending compliance date. The following checklist, compiled by the nutrition labeling experts at Microbac Laboratories, provides companies with helpful insights and recommendations to transition to their new Nutrition Facts label:
Clear Your Label Inventory: Small food manufacturers should endeavor to exhaust their "old labels" before the January 1st compliance date. It goes without saying that developing food labels is not an inexpensive exercise; depleting your inventory supply as much as possible will help your company minimize financial losses due to any leftover stock.
Conduct a Nutritional Analysis: Before making any modifications to their labels, small manufacturers should conduct a complete nutritional analysis of their products via laboratory testing, database analysis, or a combination of both. To ensure the formulation of FDA-compliant labels, it is imperative for companies to work with trusted and reputable organizations that can provide detailed and accurate nutrient data.
Store Your Nutrient Data: With your nutrient profile in-hand, it is of utmost importance to securely store and organize your data. Storage options can range from Microsoft Excel spreadsheets to dedicated, state-of-the-art software databases.
Design Your Nutrition Facts Label: Many food testing laboratories and a number of private consulting groups offer preliminary label design assistance (e.g., mock-ups) to food manufacturers. Online label generators, which allow users to create and customize FDA-compliant labels, are also readily available to interested parties.
Get a Label Review: Before printing your nutrition label, it is economically and scientifically prudent to verify that your label is FDA-compliant. As such, it is a sound business decision to work with companies that specialize in label reviews. An expert food label review can reduce the risk of non-compliance and ensure that all aspects of your nutrition label, such as Reference Amounts Customarily Consumed (RACCs) and servings per container, were updated as needed in accordance with new labeling requirements. It is worth noting that the FDA does not review or approve food labels. If the agency discovers that a label is out of compliance, it will consider the product misbranded and may move forward with regulatory action, including product detention.
It's Time to Print Your Label: Internal and external printing options are available for small food manufacturers. Companies should take the necessary time to investigate and choose the most efficient, accurate, and streamlined process that best suits them.
Time is of the essence for scores of small food manufacturers to comply with the new Nutrition Facts labeling regulations. Microbac Laboratories, one of the country's leading food testing organizations over the past five decades, offers fast and accurate labeling services to help companies meet their business needs.
The Need For Speed
The laboratory offers complete nutritional analysis services to support the development of FDA-compliant food labels. "Our experienced nutritional labeling team possesses years of analytical experience and technical know-how to deliver concise data to food manufacturers," says Bradley Nelson, director of the company's Warrendale / Erie, PA, laboratory.
With ISO 17025 accredited laboratories across the U.S., the food testing provider utilizes cutting-edge technologies and approved methodologies, such as AOAC INTERNATIONAL, to deliver reliable nutrient data to valued customers.
Companies, Nelson states, can have complete confidence in the data that is generated by the skilled chemists and technicians at Microbac.
"We offer nutritional testing packages for nearly every food industry segment and we can customized packages to meet the specific needs of companies. With our Certificate of Analysis (COA), food manufacturers of all sizes can move forward with their business assured in knowing that their testing was performed in accordance with the highest industry standards," he says.
Noting that some aspects of the new Nutrition Facts label regulations can be confusing, Nelson says dedicated Microbac professionals can assist small manufacturers with their needs, whether they are monumental or minute.
"It really helps, especially for a small company, to have somebody they can lean on, not only from a testing perspective but also from an experience and knowledge perspective," he states. "Having an accredited laboratory on your team that can guide you and keeps you out of trouble with the FDA is a breath of fresh air."
Finish Line Ahead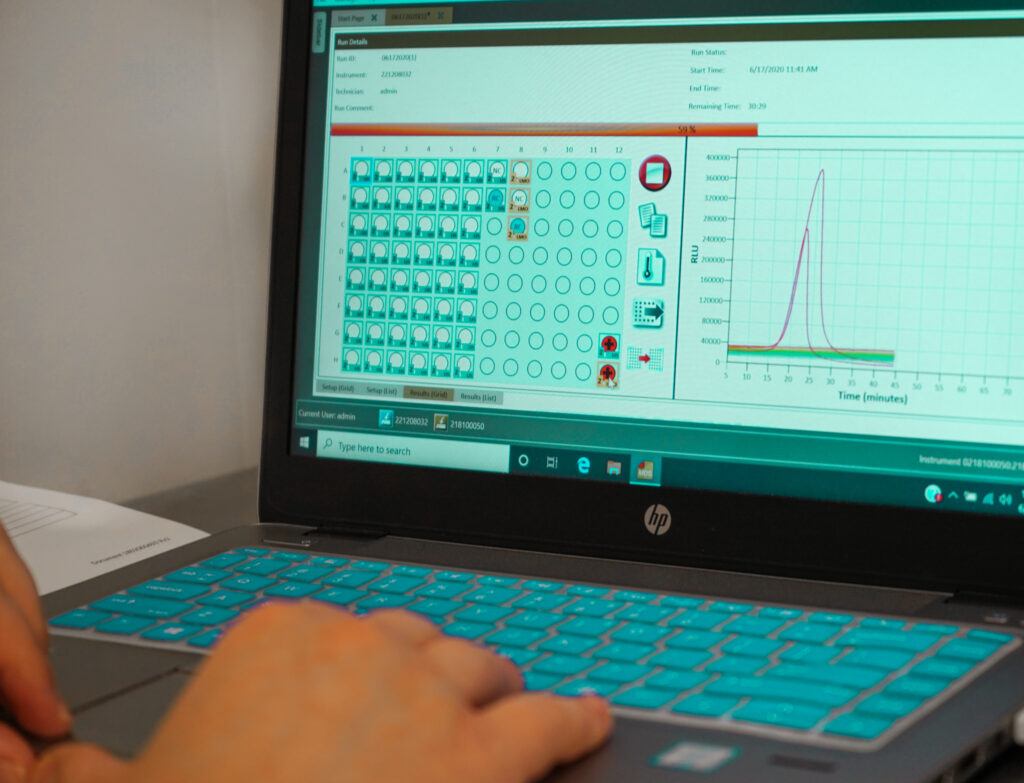 The race for small food manufacturers to comply with the FDA's new labeling regulations is headed into the home stretch. Companies can count on Microbac to help them cross the finish line with exceptional customer service and technical excellence. Reach out here, today, to request a custom nutritional label that meets your needs. For more information on our nutritional label services, go here. For more information on our food testing services, gohere.
---
This document is not intended to provide scientific or other advice to be used in a specific fact situation and is intended for general information purposes only. While we encourage you to share this document with others, this document or any portion of it may not be quoted, used in or referred to in another publication without our express permission.
---
References
1. Harvard Chan School of Public Health. Poor diets linked to $50 billion in U.S. health care costs. Retrieved from https://www.hsph.harvard.edu/news/hsph-in-the-news/poor-diets-health-care-costs/
2. FDA. The New and Improved Nutrition Facts Label – Key Changes. Retrieved from https://www.fda.gov/media/135302/download
3. NPD Group. New Year, New Nutrition Facts Label on Food: Most U.S. Consumers Read the Nutrition Facts Label and the Top Items They Look for Are Sugars and Calories. Retrieved from https://www.npd.com/wps/portal/npd/us/news/press-releases/2020/new-year-new-nutrition-facts-label-on-food-most-us-consumers-read-the-nutrition-facts-label-and-the-top-items-they-look-for-are-sugars-and-calories/
4. Food Technology. 2016. FDA Overhauls Nutrition Facts Label. Retrieved from https://www.ift.org/news-and-publications/food-technology-magazine/issues/2016/june/features/fda-overhauls-nutrition-facts-label
5. Long. J. 2014. FDA Proposes Sweeping Overhaul of Nutrition Facts Label Natural Products Insider. Retrieved from https://www.naturalproductsinsider.com/legal-compliance/fda-proposes-sweeping-overhaul-nutrition-facts-label